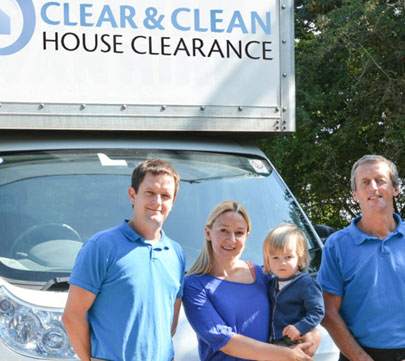 How to find the perfect house clearance company for you
Letting someone into your home to clear/help move your belongings is a big deal. Just like picking the perfect painter/decorator or even babysitter, a lot of research tends to go into finding the house clearance/removals company. This is because you need to find someone who you can trust in your property.
Whether you're moving home or clearing a loved one's property after they've passed away, when a team of people will be working closely with you and your family's possessions, you have the right to be selective.
But when it comes to actually finding a company you feel you can relate with, are there hard and fast rules to follow? What questions should you ask? How do you know you can trust them?
We've put together a guide to help you find the house clearance company who is the perfect fit for you.
Check out their company's values
If you're keen to find a house clearance company that you can trust to enter yours, or a loved one's home, you'll want them to have strong values. Finding a family-run company can be a great way to focus your search. This is because family-run businesses tend to hold their values close to their hearts and take great pride in what they do.
You'll probably want to look for a company that has values such as trust, integrity, accountability, passion and so on. This will give you extra confidence when coming to work with them.
See if they have an ethos
Most companies will have an ethos that they work by which underpins every single thing they do. For example, our ethos is 'green'. It's being as kind to the environment as we can and always going above and beyond to prevent harm to it. Using a company who works hard for something they believe in is positive and will hopefully speak for itself.
Ensure their fees are transparent
The last thing you want is to commit to an open-ended house clearance where you're billed at the end for your usage. Make sure you work with a company who can be open, honest and provide you with a free (no obligation) quote. If they're not the right fit for you, they shouldn't want to force it. Also, try and make sure that the quote they give you us unlikely to change.
Shop around
Don't forget to shop around! The first company you speak with may seem like an 'okay' fit, but by the time you've spoken with other companies, you may realise they are far too expensive. Likewise, if one company is super cheap in comparison with the rest, there's probably a reason.
When you find the right house clearance company for you, you'll know.
Check out their services
Did you know that different house clearance companies offer different services? For example, Clear & Clean House Clearance offer all the regular clearance/removal services, but with cleaning and environmentally friendly clearing included! That means no forking out for a cleaner/skip and you're doing a great thing for the environment.
So, whilst you may find a clearance company who is slightly cheaper, by the time you hire the cleaner, removals van, skip and relevant licenses; chances are, things will be a lot more expensive.
Familiarise yourself with the company's processes
What is the company's process for conducting each house clearance? You're entitled to a breakdown of the work they'll be undertaking in your property.
For example, here at Clear & Clean House Clearance:
We provide you with a free, no-obligation quote and then book you into our diary
We ask you to either remove all belongings you'd like to keep or put them in a corner with a sheet over them. We'll then deliver them to you at a later date.
We then spend an allocated amount of time sorting through everything else remaining. We'll segment each item in the property.
We'll then remove the no longer needed possessions.
We work really hard to avoid landfill, so we use other alternatives like recycling, upcycling, donation and so on.
If it's a removal, we'll also move all of your belongings, furniture etc. to your new place.
We'll then return to the previous property and commence cleaning. We leave the property ready for vacant possession, so you can be assured it's a professional clean.
We can then return the keys back to wherever you need them to be. For example, the estate agent/solicitor.
Once you know more about how the company works, it can feel more natural to allow them into your home.
Assess their professionalism
There are various factors that can point out professionalism. How do they conduct themselves in terms of speech/body language? Do they wear a uniform? How friendly are the staff? How willing are they to answer any queries you have?
Again, this is one of those situations where you'll get an instant 'feel' for the company you want to work with.
Check they're licensed and insured
We've mentioned it time and time again, always make sure the company you're using are both licensed and insured. A license will ensure your belongings aren't fly-tipped and you aren't faced with a huge fine (of up to £50,000) or even prison! Insurance will ensure that both parties are covered in the event of accident or damage.
Are they trusted in their area?
This is one of the most important points mentioned. If your potential house clearance company doesn't have proven experience of completed projects and relieved customers, should you trust them?
Finding real customer reviews can be a fantastic way to narrow down the shortlist. Finding reviews on websites/Google accounts can be a good way to make sure that real, legitimate people have left the reviews you may be basing your decision on.
For example, if you head to our Google profile, you'll see lots of reviews from our previous customers who we were lucky to have been able to help.
We hope this has given you some insight/structure into narrowing down your house clearance company search. Whilst you're here, if you'd like a chat and a free, no obligation quote, give David a call today on 07909 846679 or 01452 290086.